I love this place. The home fries are AWESOME! The staff is AWESOME! The prices are AWESOME! My husband and I can't seem to wake up on a Saturday morning and not want to go - and sometimes Saturday doesn't quite do it -and we find ourselves there on Sunday too.....
Krissy f. Needham, MA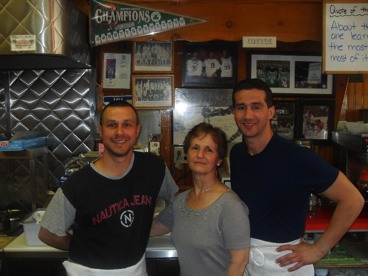 About Us


For the past twenty-three years The Knotty Pine Lunch has been a family-owned and operated restaurant dedicated to providing their patrons with the best food in Newton. The Knotty Pine Lunch was founded in 1987 by Tula Kourtis and her brother at 295 Auburn Street in Auburndale, Massachusetts in a building that has housed a restaurant for over seventy years. During those seventy years the dècor has changed very little but the atmosphere has only gotten better. In 1996 Tula's two sons, Billy and Nick purchased the restaurant and can be seen working seven days a week with their mother. They pride themselves on friendly and speedy service, a clean environment and interaction with the customers.


The Knotty Pine Lunch seats just 39 customers at a time but features the fastest service of any diner around, making it possible for customers to come in and out in a hurry if they choose to. Patrons frequently come in to talk about Boston sports and the conversation is often more intruiging than your local sports bar. Some customers come in three times a day for coffee, breakfast and lunch and even come in during blizzards.

Tula, who still works at The Knotty Pine Lunch regularly tells customers "I could work here every day, I love this place so much. I used to wake up at 3:30AM every day to be here - I never got any sleep, I had three kids but I never got tired... I still never get tired, I just love seeing new and familiar faces and that keeps me going."

In Fall 2009 The Knotty Pine Lunch first began opening for Sunday breakfast at 6am.